Who's ready to knit socks?
The crowd goes wild wielding their needles and their sock yarn in excitement.
Good because here's the first steps. Cast on knitting friends and make socks. And here's the really fun part – we're making our very own pattern.
It's not hard, I promise. Just a little math, which you can totally delegate to the kids as a summer test.
If you can't see the video click how to knit a sock.
How does that look? Who's excited? If you are scared silly my advice is to get knitting and you will figure it out. Promise. But just in case I have a few more helpful hints.
Swatch Knitting
Knit a swatch in pattern. For socks that's most likely stockinette.
To make a swatch in stockinette cast on some stitches, 20 or so. Knit a row, purl the next row. Repeat.
It's a good idea to knit the first and last stitch on the purl side, it helps the edges sit flat.
If you need help with casting on, the knit stitch or the purl stitch see our videos.
The Math Part
The number of stitches per inch (measured from your swatch) multiplied by the measurement in inches around your leg equals the number of stitches to cast on.
Example: I had 8 st/in. My leg was was 10 in. I need to cast on 80 stitches.
Ribbing
Decide if you would like to have a 2 x 2 ribbing (2 knit, 2 purl) at the top of your sock or a 1 x 1 ribbing (1 knit, 1 purl).
Beginners should start wtith a 2 x 2 ribbing. If that's new to you watch our learn to knit ribbing video.
For 2 x 2 ribbing your total number of stitches needs to be divisible by 4. For 1 x 1 ribbing you just need an even number of stitches.
Adjust your number of cast on stitches to work out for the ribbing. It is best to decrease the cast on stitches by a few rather than increase.
Dividing and Transferring Stitches
It might work out that you have the exact same number of stitches on each needle. That's ok.
Aim to have a similar number on each needle.
Best to have an even number of stitches per needle, it's easier to knit the ribbing.
Knitting
If you are new to sock knitting start on a table. It helps the needles lay flat and keep the stitches from getting twisted.
The only solution for twisted stitches is to pull the whole show out and start again.
Pull the yarn snuggly on the first 2 stitches of every row.
Knit ribbing until you are fed up, then switch to knit every stitch.
Knit around and around and around.
Here's how much ribbing I did, not quite an inch. I chose a 1 x 1 rib.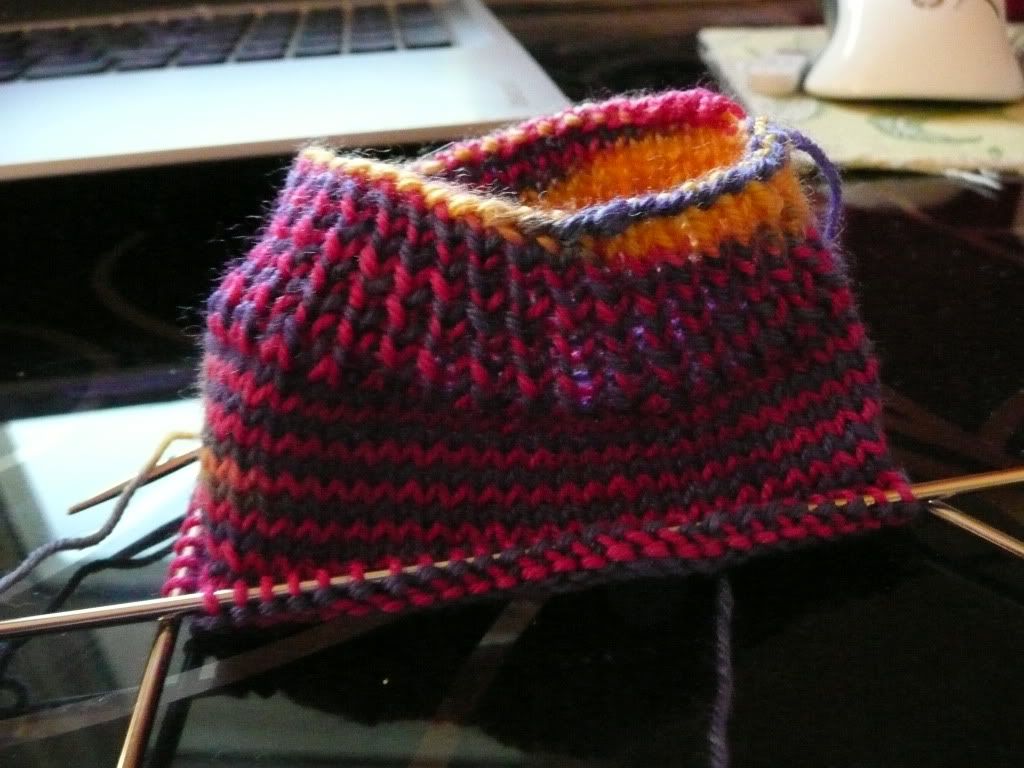 And now you are knitting a sock, you are awesome. Head over to Ravelry and get that new project logged in.
For more information visit Socks 101 at knitty.com.